EPCOT- Sambaralu July 4th Party!!

Start off the evening of July 4th relaxing with us at EPCOT. Chartered buses will pick us up at the Orange County Convention Center and take us to EPCOT around 8pm. We can spend the next two hours exploring the incredible attractions of EPCOT, including unique events
that are held especially for the 4th of July.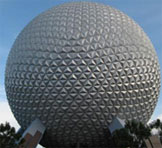 At 10pm, we will head over to the World Showcase Promenade and watch spectacular 4th of July fireworks over the lagoon.
This is no ordinary fireworks show
. In addition to the fiery glow of torches and sky-piercing lasers of the Illuminations Show that reflect on the lagoon, a
unique million-dollar fireworks display selected especially for the 4th of July
will echo atop an original music score. This will be a thrilling visual and aural extravaganza as the skies above the lagoon are transformed into a kaleidoscope of color from thundering pyrotechnic bursts.
After the July 4th fireworks show finishes and EPCOT closes, we will remain for a private dance party at EPCOT's World ShowPlace Pavilion. With a DJ and dance floor, drinks, and spaces to relax and lounge, we will enjoy the last night of America Telugu Sambaralu at EPCOT in style! Around 1:30am, we will board buses and return to our hotels.
The EPCOT- Sambaralu July 4th Party will be an event unlike any other! Join us for this incredible night!
Interested in meeting that special someone? Parents want you to find your better half? Join us for Sambaralu's Singles Mixer on Saturday July 4th. Meet similarly-minded single adults (ages 21+) and watch the sparks fly!
Sparkle at Sambaralu Starlight Youth Banquet!
Join us for the Starlight Youth Banquet, the premier Black Tie event on Thursday July 2nd!! Whether you choose to heat up the dance floor or chill out in the starlight, you will be in celestial paradise. Food, fun, dancing, and great company await you!
Sambaralu Networking Event!
Contact Anu at Young Professionals and Graduate Students such as yourself can network with other like-minded young adults at the Sambaralu Networking Event on Friday July 3rd. Learn more about your field of interest, explore new areas, and meet interesting young adults. Develop the foundation for your next career move here.
College Panel for High School Students!
High School JUNIORS, SENIORS (and sophomores!) THIS IS FOR YOU!!! Learn the tips and tricks for getting into the college of your dreams! Want to go to your state school? Have your heart set on an Ivy League? Parents want you to go to a combined med program? Meet other Telugu youth who are currently in these programs and can tell you how to apply, how to get in, and HOW TO CHOOSE! Get all your questions answered about finding the right college for you! If you have any questions or would like more info, please email sindhu.nats@gmail.com
Speakers for College Panel:
Calling all College Seniors and recent graduates! Loved your college experience? Hated it? Something you wish you had known while you were applying? Come share your wisdom at the America Telugu Sambaralu College Panel with current high school students. If you're interested in speaking on a college panel, please contact Sindhu at sindhu.nats@gmail.com
Sambaralu Fashion Show!!
Participate in the Sambaralu Fashion Show! We will be incorporating dances and acting into a 15 minute segment with an original story! If you want to dance or act, or just simply show off your glitz, then this is definitely the perfect opportunity for you! Contact Sneha at sneha.nats@gmail.com to participate!!
Miss America Telugu Sambaralu 2009 Pageant
We are very excited to announce the Miss America Telugu Sambaralu 2009 pageant that will take place in Orlando, FL during the America Telugu Sambaralu Conference. We invite female conference registrants between the ages of 14-25 to take part in either the teen or young miss pageant. The purpose of the pageant is to showcase our youth's commitment to service, academic achievement, leadership, and talent. This will be a wonderful means for participants to enhance communication skills and confidence. A scholarship will be awarded to pageant winners. Pageant registration forms and additional details can be found at sambaralu.org. We look forward to seeing our youth display their achievements and talents at the Miss America Telugu Sambaralu 2009 pageant!

Miss America Telugu Sambaralu 2009 Pageant coordinated by:

Dasuni Chathurika (Finalist in Miss India Worldwide 2008 & Winner of Miss Teen Sri Lanka America 2008)

Anu Kotha (Coordinator of Youth Programs for America Telugu Sambaralu Conference)

For specific pageant questions contact Dasuni at missdasuni@gmail.com

For general questions contact Anu at anukotha.nats@gmail.com

Miss America Telugu Sambaralu Application
Dear pageant participants,


Never lose sight of your dreams and ambitions. Only you are the judge of yourself, your goals, and your life. Make most of what matters to you and continue to climb to new heights. Let's take pride and respect in ourselves and in our universe and remember each choice is an opportunity! Thank you so much for taking the time to participate in this pageant. We will be having a lot of fun! If you have any questions please feel free to e-mail me at missdasuni@gmail.com
-Dasuni

Dasuni Chathurika is Miss Teen Sri Lanka USA 2008 and Finalist at Miss India Worldwide 2008 which took place in Johannesburg, South Africa. Dasuni will finish her year-long reign traveling to Sri Lanka in June for charity donations. She is also a Classical and Bollywood professional dance performer, dance choreographer, as well as a model. She lives by the motto "The greatest losses of all are those from missed opportunities."